The brand new Triangle Curling Center is open, and our first big tournament/bonspiel starts today! I'm not even playing in it and I'm still really excited!
The new curling center actually opened provisionally last week. By "provisionally", I mean:
- At first, we didn't have parking lot lights installed, so we could only be open during daylight hours. (That's been taken care of since then, so now we can stay open all night, I think...although we can't serve beer and wine all night, of course.)
- There are still a lot of touch-up type things to do - landscaping and whatnot - in the next month or so, otherwise the City of Durham won't extend our Certificate of Occupancy beyond 30 days. Nothing we have to "worry" about, other than just making sure we do what needs to be done.
And by "we", I don't mean, me, specifically. Being with the kids has taken priority, and what free time Amber and I have on weekends we often set aside for our respective exercise routines, so we haven't been able to help much at all with the building work and whatnot. Mostly, we've been limited to helping out with things we can do from the comfort of our own home (for example, putting together
the draw for this weekend's bonspiel
). So, a
huge
thank you to all of the club's volunteers who helped make this happen. This was a
lot
of work. The building opened later than originally expected, but in hindsight, I think it's amazing it happened this quickly! Only 13 months from ceremonial groundbreaking to doors open.
It was always the plan to have a "housewarming" bonspiel including lots of out-of-town teams soon after the building opened. So, we were kind of cutting it close there on time...but not
that
close, right? It's not like the parking lot lights were just installed
today
.
Amber and I have put curling in weekend-long bonspiels on the back burner for the time being while the kids are young. We'll get back to it eventually, but we'll still have plenty of opportunities to curl coming up soon. The first leagues in the new building will start in a week or two, and then Amber and I will be curling three times a week between the two of us. (Twice a week for me, once for Amber.)
We also got out on the ice during "open ice time" last week. I played in a pick-up game, which I lost...
End.........1234567 |TTL
------------------------
Foulger.....2032030 | 10
Allen.......0300301 | 07
Curling on dedicated ice is a) GREAT, and b) much more complicated from a strategy standpoint because of all the different options you have. I haven't figured it out yet, especially what to do when I
don't
have last rock. I know what the "curling textbook" says to do - first two rocks on the center line, remove any rock of the other color whenever possible, and if you get an opportunity to steal a point or two, great, but the most important thing is not giving up 3 or more - but I haven't been able to put this in practice yet. We'll be revisiting this topic in the future. (Keep in mind, I have still only played 12 games
ever
as a skip on dedicated ice.)
One thing that was nice about open ice time was, we could bring Marla on the ice, too! Of all the sports I watch on television, there's really only one sport that grabs Marla's interest for any length of time, and that's curling. (It's true!) And we watched a lot of curling this winter, to the point where Marla is now independently drawing curling stones on her whiteboard: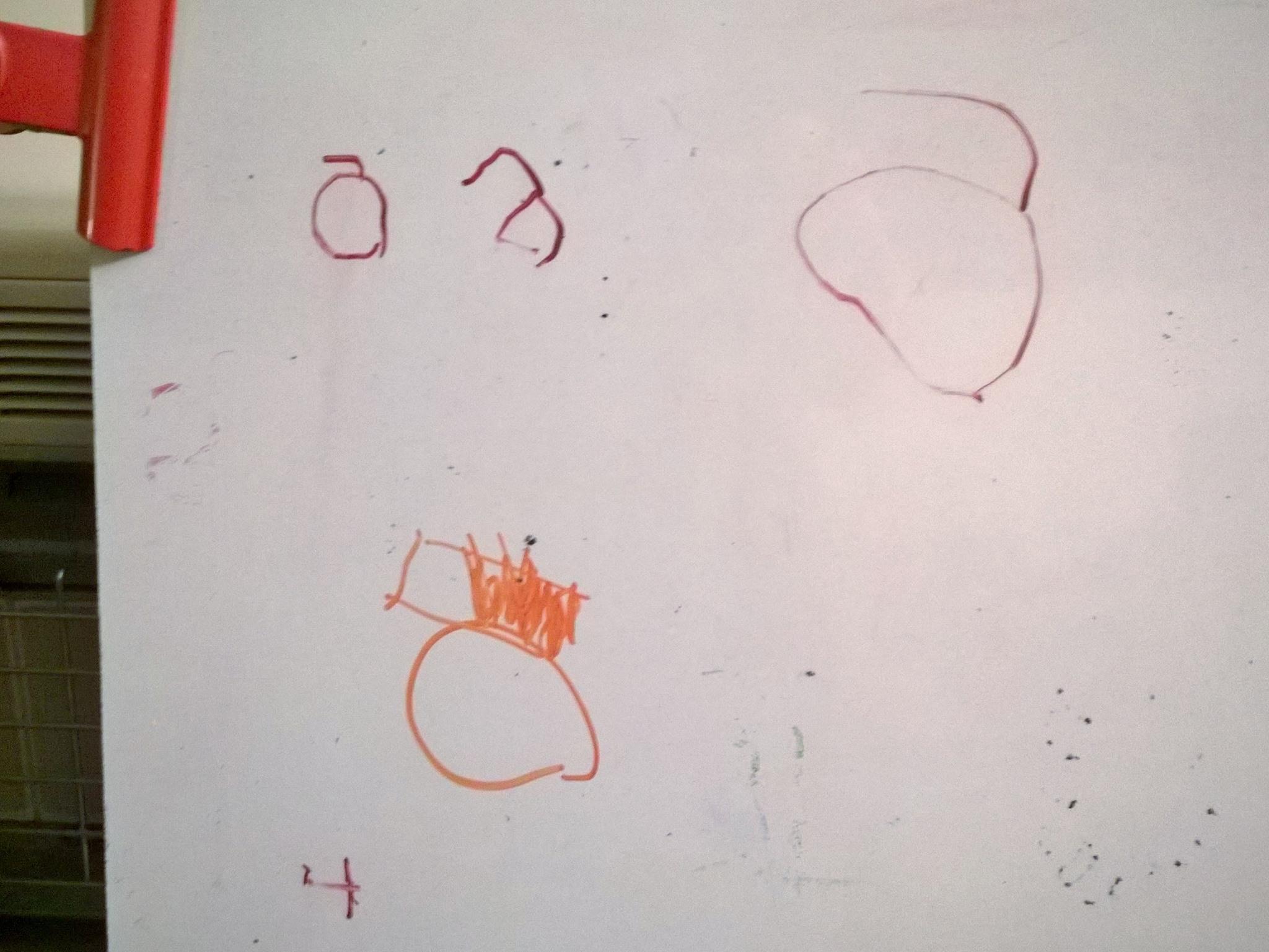 So when we took Marla out to our new curling facility, where the lines and circles and rocks look just like they do on television (mostly), she just ate it up.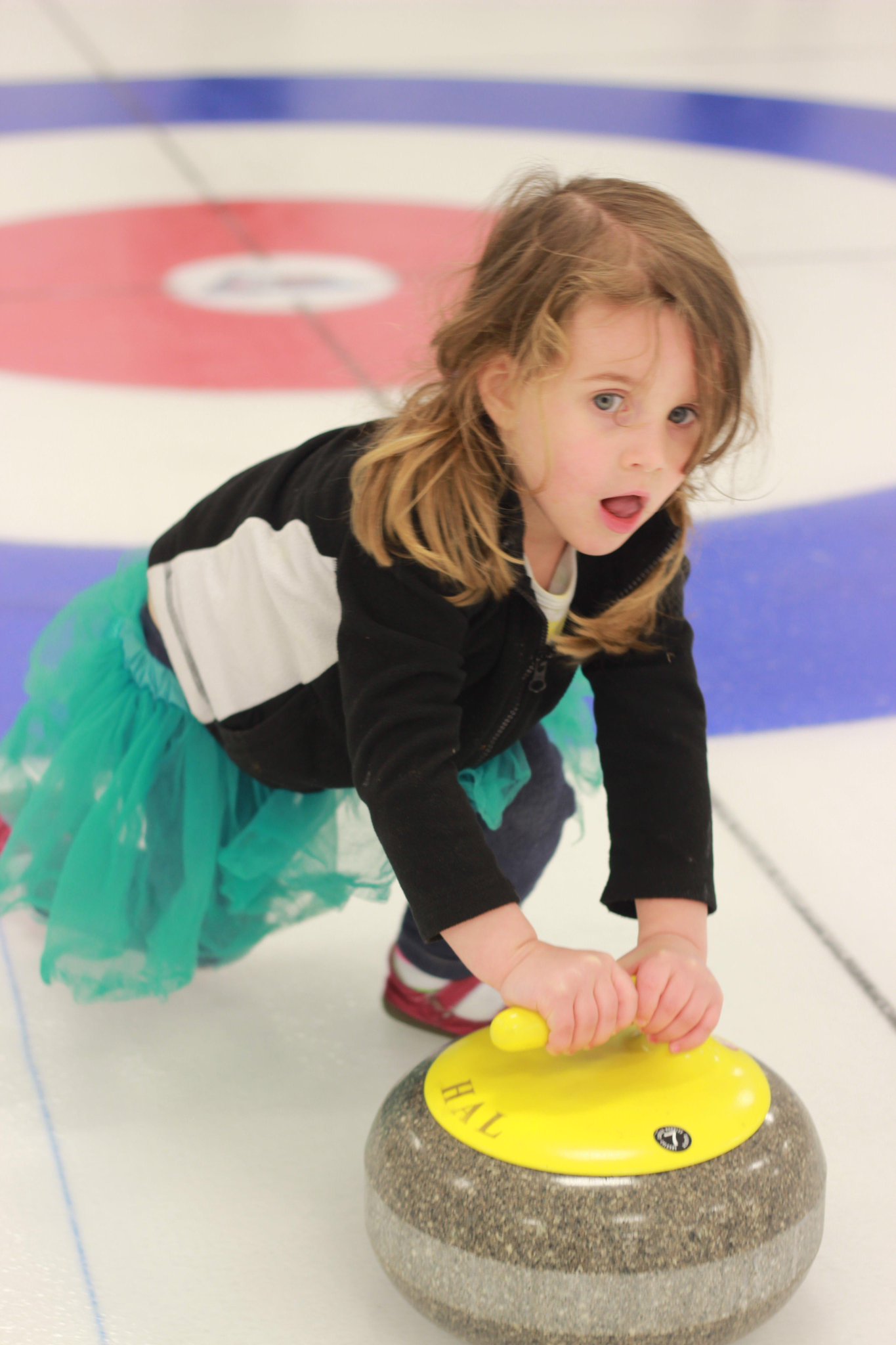 I enjoyed watching Marla go up and down the ice more than I enjoyed curling myself. Eventually she was actually throwing rocks down the ice, for real! (Well, sort of...let's just say, there may have been a few hog line violations.) Hog line violations aside, she even made her own take-out, without assistance!* My proudest moment as a father.**
(* - I swept her rock to hold it straight, but that's
legal
assistance, of course.)
(** - Well, maybe not my #1 proudest moment as a father, but it's in the conversation.)
Basically, Marla starts in the hack with a rock in front of her like a real curler, starts running down the ice with the rock (her everyday shoes can actually handle the ice extremely well), and then she lets go whenever she feels like letting go - usually past the hog line, and usually with take-out weight. It's pretty awesome. I'm glad we came out with her when we did, because giving Marla ice time may not be so easy once the ice gets busy with leagues and such.
So, it's been a fun week of curling, culminating with this weekend's Housewarming Bonspiel, for which I'll be a spectator. And this is just WEEK ONE of our new building! We have a lifetime of curling in our new building to look forward to. And I mean, that, too: I've purchased a lifetime membership. (For myself, not for Marla. We thought a lifetime membership for Marla would be jumping the gun too much at this point.)